Are you looking for a doctor with whom you feel in good hands? With us you are in the best hands!
This is how your first visit to in our practice:
At your first visit you will be asked to fill out a medical questionnaire to explain your current health issues and provide a summary of your medical history. In your own interest we kindly ask you to answer the questions in detail. The more information on your symptoms and pre-existing conditions your doctors have, the better they can assess and treat you.
To optimize your first appointment we will ask you for the following information: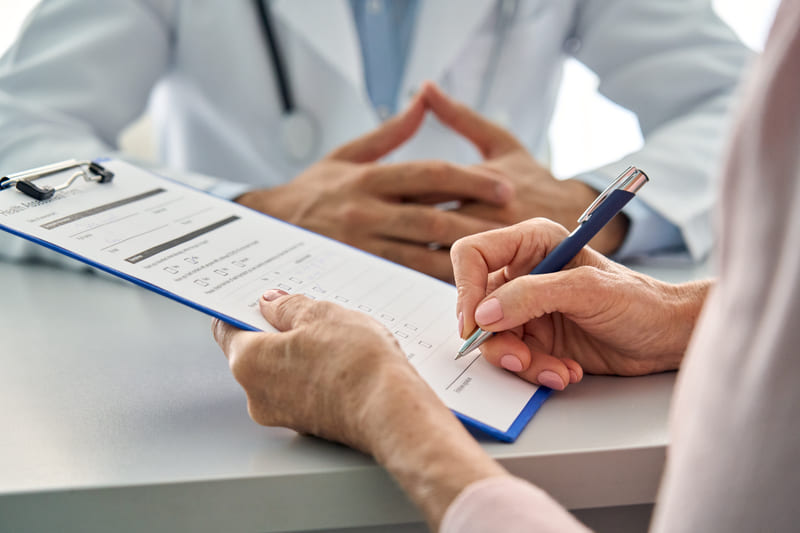 What is your main concern?
When did your symptoms start?
Do you suspect of any specific trigger?
How long does it last (for seconds/minutes/hours/permanently)?
Apart from the above-mentioned discomforts, do you suffer from any other chronic diseases, e. g. hypertension, diabetes, heart / circulatory diseases, lung, thyroid, liver or kidney diseases, etc.?
Have you had to undergo any surgeries? If so, what have you been operated on and when?
Do you smoke (or are you an ex-smoker)? How much alcohol do you drink?
Do you have any allergies, especially against medication, antibiotics as penicillin or contrast medium?
Do you take any regular medication? If so, please bring a detailed list of all your medication and the dosage of your drugs!
Is there a family history of heart attacks, strokes, deep vein thrombosis / pulmonary embolism or cancer?
In order to make the best service possible for you and to use the available time to solve your current problem we may kindly ask you to bring any reports of previous findings (i.e. medical reports, blood / urine test results, X-rays, lists of your blood pressure or blood sugar readings, vaccination records etc.) as well as your current medication or a list of your medication.
If for any reason you cannot make the arranged visit, please cancel at least 48 hours prior to your appointment.